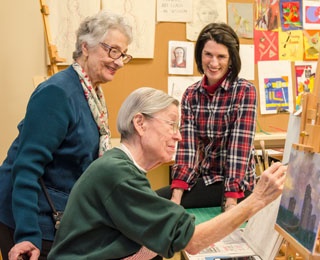 For many of us, the term, "lifelong learning", is unfamiliar, but the concept first gained popularity in the 1970s, when France developed University of the Third Age courses for seniors. The term, "lifelong learners", was first used in 1993.
What Is Lifelong Learning?
Lifelong learning is the concept that learning shouldn't end at a certain age but should continue throughout life via self-directed learning or in adult education and continuing education classrooms. Although the concept has been wholeheartedly embraced throughout the world, research remains limited.
Benefits of Lifelong Learning
One study dealing directly with the impact of University of the Third Age courses showed that those older adults who took educational classes increased their overall level of activity, improved memory functioning over time, and experienced a lower rate of depression. Numerous studies show that an enriched learning environment can reduce cognitive decline, help older adults prevent or reduce the effects of depression, and enhance self-image.
Another study concluded that U.S. adults with less than a high-school education have close to twice the risk of death in a 5-year follow-up period compared to adults with 17 or more years of education. Individuals with less education are more likely to suffer from hypertension, hypercholesterolemia, and a weakened immune system.
Lifelong Learning at The Admiral at the Lake
The Admiral at the Lake is a Kendal affiliate, which means the Lifelong Learning Committee is one of the pillars of this resident-led community. All Kendal communities make a commitment "to promote an environment of continuing learning, encouraging lifelong growth for staff, community members, boards, and volunteers."
The Admiral at the Lake's Lifelong Learning Committee, chaired by Toni Smith, offers classes, seminars and talks on a variety of programs. They invite speakers from universities and cultural institutions throughout Chicago, as well as authors, architects and other professionals to give presentations on site at the Admiral. A major contributor has been the Graham School of Continuing Education at the University of Chicago. "We typically go to cultural institutions, universities, and some independent speakers for our programs," she explains.
Although the Graham School courses are offered on a contractual basis, other classes and seminars are scheduled more casually. In the future, Toni hopes to change that.
Future Plans
"We hope to institutionalize relationships for our ongoing programs with other colleges, universities and cultural institutions, such as the Field Museum, Adler Planetarium, and Oriental Institute," she says.
Another goal of the Lifelong Learning Committee is to offer residents the opportunity to become better informed about the neighborhood, city, state, and nation. "We brought our Congresswoman to speak about what is happening in Washington, and we will have other journalists and professors speaking about politics later this year," Toni remarks.
The residents of The Admiral at the Lake think highly of the educational offerings presented by the Lifelong Learning Committee.
"I do know we get a lot of appreciative comments, both about individual presentations and the program in general. Many residents feel it is a critical offering here," she says.
Learn More…
Learn more about the lifelong learning activities and other exciting events happening at The Admiral at the Lake by visiting our events page.
Our senior living community provides outstanding comfort and fosters a sense of community for residents who consider retirement a chance to get out and live the life they choose, free from the burden of home maintenance and competing priorities. Visit us online or call 773-433-1801 to set up a tour.