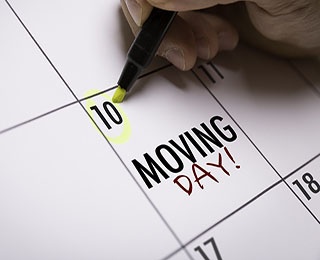 If you're in the process of downsizing and moving into a new home or apartment, you're probably well aware of how much of a hassle the moving process can be. Researching moving companies, sorting through your belongings, trying to figure out the floor plans of your new space—it can really pile up.
Wouldn't it be great if you could hire someone to do all that legwork for you? Well, that's where a senior move manager comes in.
________________________________________
Have you started downsizing yet? Find out if it's right for you.
________________________________________
What is a senior move manager?
A senior move manager is essentially a professional move organizer. They don't offer the actual moving service, but they manage all the other tasks that go into moving. For example, a move manager helps with:
downsizing or organizing possessions.
arranging to sell, donate, or dispose of unwanted possessions. This can be through setting up estate sales or auctions or by determining the correct charities or the proper methods of disposal.
management of the movers. This can include interviewing movers, scheduling the move, and supervising during the actual moving day.
setting up storage unit rentals or arranging other storage solutions.
The benefit of a move manager is that they've done it all before—many times. You might be totally lost about what to do with your more unique moving challenges, but a move manager will have the answers. They know who to call when a baby grand piano needs to be sold, which moving companies are reliable, even what charities are able and willing to accept boat donations.
Essentially, they help make the moving process less of a hassle for you. You won't need to spend hours researching the best moving companies, contacting local auction houses, or combing the Internet for a storage facility near you. That's what a move manager is for.
How much does a move manager typically cost?
A move manager's fee can fluctuate depending on your location and what services they offer. AARP estimates that the average move manager charges anywhere from $40-$125 an hour. Total, you'll likely spend about $1,500 to $5,000 on a move management service.
When budgeting for the move, you'll first want to take into account how much a moving service will cost because as mentioned, that's not included in the move manager's services. It really depends on the size and location of the move, but moving services can cost anywhere from $800 to $5,000.
Of course, keep in mind that if a move manager successfully arranges for the sale of unwanted items, they might end up paying for themselves.
How to pick a move manager
If, after budgeting for the moving service, you feel like a move manager will fit the budget, there are a few things you'll want look for when hiring a move manager.
First, do a little research in your area to see what the average cost is for a move manager so you know that the going rate is. Great move managers will charge accordingly for their services, but you'll still want to have benchmark figure in your back pocket as you go about your search.
When determining the quality of a move management company, look online or ask friends who have recently moved to see if they used any move manager services and would recommend them. If you've worked with an estate planning attorney, they might also be able to give you a few references.
If a move management company has reviews online, make sure you read through them to see what kind of experiences people have had with the company. If there aren't any reviews, that might be a red flag—they might not be a legitimate business or they might not be experienced enough yet to handle your move.
Questions to ask a move manager
When you've narrowed down your options, the National Association of Senior Move Managers suggests you ask move managers the following things:
How long have you provided move management services?
Do you have any formal training?
Are you insured for liability and workers' compensation?
Do you charge by the hour or the project? (Make sure they provide a written contract that outlines all fees)
Do you have any references?
We also recommend that you ask:
Do you conduct the interviews of and scheduling for movers?
How do you manage the billing for movers?
Are you able to arrange auctions, estate sales, donations, etc., for items that will not be moved to the new location?
Do you help set up the new home?
Are you able to assist with things like transferring utilities and forwarding mail?
Once they provide a written contract, be sure to give it a thorough read-through. Don't be afraid to ask questions to clarify which services are being offered and which are not. A good move manager will be happy to provide the answers you need.
Last Step: Enjoy Your New Home!
After you've successfully completed the move with the help of your move manager, don't forget to take a second to celebrate a job well done.
And now that you're in a new location, don't miss out on the chance to broaden your horizons and shake up your routine. If you're moving to a vibrant life plan community like The Admiral at the Lake, you'll have the opportunity to take take fitness classes, hone your crafts (from sewing to woodworking), and enjoy gourmet dining. This is your opportunity to live your life your way.