Having fun and staying fit go hand in hand at The Admiral at the Lake. Fitness Coordinator Donna Lakinger leads numerous programs that improve Admiral residents' balance, agility, and strength, supporting optimal wellness and preventing injuries.
_________________
Enjoy these fun activities near The Admiral at the Lake!
_________________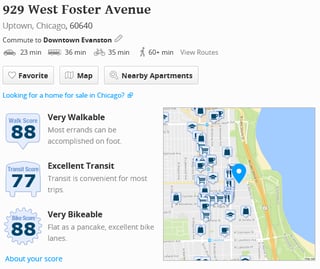 Close to Lake Michigan and several well-manicured parks, The Admiral at the Lake provides a wide array of options for exploring the outdoors. The following parks offer a wide range of opportunities to enjoy the beautiful scenery while exercising.
Looking for a specific activity? Here are a few of the resources available to help Chicagoans stay fit:
Cycling
Earning a Bike Score of 88 – Very Bikeable from walkscore.com, it's no surprise that a large number of Admiral residents are avid cyclists. Of the numerous bike trails in the area, the 18-mile lakefront bike path is a favorite. Plan your route with Map My Ride.
Dancing
Whether it's enjoying a community-led dance class at The Admiral at the Lake, salsa dancing at Pueblito Viejo, or spending a night out on the town, Admiral residents have fun moving to the beat.
Running
Avid runners appreciate the breathtaking views and flat terrain in Edgewater and Andersonville. Several local running clubs offer opportunities to meet others in pursuit of a heart-healthy lifestyle:
Swimming
Doing laps and water aerobics in The Admiral at the Lake's heated pool is a favorite year-round activity of many Admiral residents. But, when temperatures rise, you are more likely to find them enjoying one of these incredible beaches:
Tennis
Do you have a passion for tennis? You aren't alone. There are several tennis courts in the area to choose from. Whether you are practicing shots or looking for a doubles match, Chicago has you covered.
Walking
Admiral residents brag about having anything they need within walking distance. Take your dog for a walk, visit the zoo, explore the Chicago Riverwalk, or discover one of the area museums with ease from West Foster Avenue and Marine Drive, rated Very Walkable (88/100) by walkscore.com.
Yoga
It's official. Chicagoans love yoga, especially Admiral residents. In addition to classes offered at The Admiral at the Lake, these highly-rated nearby yoga studios offer many opportunities to improve flexibility, muscle strength, and circulation through the practice of yoga.
Exercise and Wellness
Regular exercise is just one component of a healthy lifestyle. The Admiral at the Lake provides numerous programs that support achieving and sustaining optimal wellness. Please understand that these resources are provided only as a convenience. For your health and safety, we strongly recommended that interested readers consult a primary care provider before beginning any exercise program.

_________________

What's the best neighborhood in Chicago for older adults?

_________________

The Admiral at the Lake is a continuing care community dedicated to supporting and promoting the personal independence, health and wellness of community members. We avoid using the terms retirement community or senior living, because The Admiral at the Lake encourages a lifestyle that rejects stereotypes of aging. Call 773.433.1801 or click today to get your free information kit.